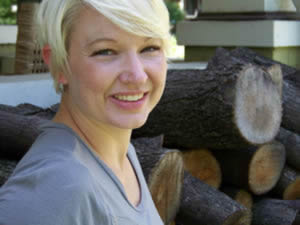 Victoria Barrett is a writer, editor, and professor. Her own fiction has appeared in Colorado Review, Massachusetts Review, You Must Be This Tall to Ride, and Confrontation. She has recently completed her first novel, Four Points Gin.
Her goal as an editor is to read fiction submissions on their own terms, rather than see them through the lens of her own aesthetic preferences.
Barrett also co-edits Freight Stories, an online fiction journal, with her husband Andrew Scott. She posts at the Engine Books blog, and on rare occasions rants at her personal blog, The Pretty Bird. During the school year she teaches composition and creative writing at Ball State University.


Andrew Scott is the author of Naked Summer, a story collection, and the editor of a forthcoming anthology, 24 Bar Blues: Two Dozen Tales of Bars, Booze, and the Blues. His fiction and nonfiction have appeared in Esquire, Ninth Letter, The Cincinnati Review, Mid-American Review, Glimmer Train Stories, The Writer's Chronicle, and other publications. With Victoria Barrett, he edits Freight Stories, an online fiction journal. 
Andrew's editorial focus at Engine Books is short story collections.