Praise for Other Heartbreaks
"Throughout her powerful story collection, Other Heartbreaks, Patricia Henley lays bare the souls of women coping with the ache of losing love." —O, THE OPRAH MAGAZINE
"To be absorbed in these love stories—between mothers and daughters, friends and lovers, husbands and wives—is to be held in suspension above the richness that life has to offer." —LINCOLN JOURNAL-STAR
"These are tough and tender stories that mourn the loss of the 'deliciousness' of crazy love and ponder the inexplicability of lust." —MINNEAPOLIS STAR-TRIBUNE
"…characters so psychologically and emotionally complex, you'd swear you know them." —SAN ANTONIO EXPRESS-NEWS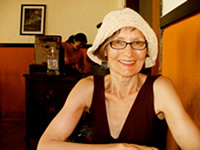 Patricia Henley's first novel, Hummingbird House, was a finalist for the National Book Award in 1999 and the New Yorker Fiction Prize in 2000. Her second novel, In the River Sweet, was published by Pantheon in 2002 and released in paperback in 2004. Her publications also include three collections of stories, Friday Night at Silver Star, The Secret of Cartwheels, and Worship of the Common Heart. She has taught in the MFA program at Purdue since 1987.
Her last book, In the River Sweet, was named one of the Best Books of the Year by the Chicago Tribune and the St. Louis Dispatch. It was a BookSense pick and a Border's Original Voices selection for October 2002. 
Learn more about Patricia at her author site, patriciahenley.org.