Named one of "today's strongest emerging talents in literary fiction and poetry" by the Huffington Post, Sybil is the author of two books of fiction, The Life Plan, a comic novel, and a linked short story collection, Talismans. Her MFA is from the Vermont College of Fine Arts.
She spent twelve years teaching in South Korea before returning to the States in 2007. She is an Assistant Professor of English (Creative Writing) at the University of Tennessee at Chattanooga, where she serves as the Assistant Director of the Meacham Writers' Workshop. She is currently on the faculty of the first international MFA program at City University of Hong Kong and is Fiction Editor at Drunken Boat.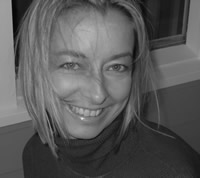 Sybil talks about researching Into This World.
Sybil Baker is "one of today's strongest emerging talents in literary fiction." –The Huffington Post