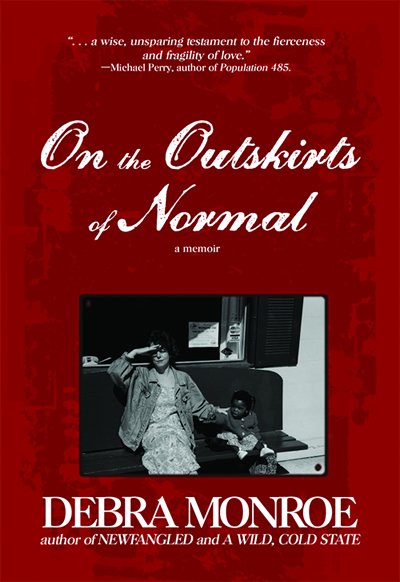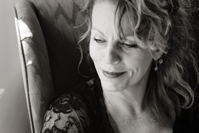 Debra Monroe is the author of four books of fiction, and one memoir.
Her first book, The Source of Trouble, published in 1990, won the prestigious Flannery O'Connor Award for Fiction, and was acclaimed as a "fierce debut" that presents "ever-hopeful lost souls with engaging humor and sympathy" (Kirkus Reviews). Her second book of stories, A Wild, Cold State, published in 1995, was described by The Boston Globe as "fine and funky, marbled with warmth and romantic confusion, but not a hint of sentimentality." When her first novel, Newfangled, was published in 1998, the Washington Post called it "rangy, thoughtful, ambitious, and widely, wildly knowledgeable, teasing out the tension between pop culture and private life." Her second novel, Shambles, published in 2004, was praised by the Texas Observer for "the depth as well as the heartbreaking particularity of the hellholes—real and imagined—that make Shambles a novel of graceful ease and substance." On the Outskirts of Normal: Forging a Family Against the Grain, was originally published by SMU Press in June 2010, to national acclaim.
author photo by Suzanne Reiss
Learn more about Debra at her author site, debramonroe.net.



As this memoir begins, Debra Monroe, mired in debt, and on the verge of a second divorce, pulls up in front of a tumbledown cabin a few miles outside a tiny town in Texas. Its isolation—miles from her teaching job in a neighboring city—feels right. A few years later, she files papers to adopt a child. Meanwhile, she doubles the size of her house, building the add-on from scratch, working alongside carpenters, plumbers and electricians, none of whom seems to have worked for a woman before. Monroe ponders her future as a single mother, but she's skeptical about the traditional family too. Her mother, who's been out of contact for seventeen years, has just resurfaced, sad, adrift. Monroe's alcoholic father phones intermittently, late at night. Then Monroe's daughter, Marie, arrives. "This feels like marriage," Monroe thinks, "only permanent."

"I stared at Marie, six pounds, no ounces, her perfect body, eyes focused and merry. She already knew me—I belonged to Marie. It was a six-day check-up, because I didn't meet Marie until she was two days old. The receptionist called her name, and I didn't stand right away because it wasn't my name. Then I realized it was my daughter's name—it was us—and I carried her to the examination room. I set her on the baby scale, and I felt tremulous and awe-struck at the wrenching elation of loving a child—letting my heart exist outside my body, and, as she'd grow, letting my heart roam around the risky world."

At home—under the gaze of a small town where even a mother with a career is rare, let alone a white mother who's adopted the only black baby in town—Monroe and her daughter become the objects of steady speculation. The townspeople see this motherhood as curious, revolutionary, but Monroe sees it as a sacred responsibility. "I thought: I'm proving it can be done without gaps or distractions. I'll be her mother forever, love like rapture only consistent."  Meanwhile, Marie is sick, and getting sicker. As Monroe attends to each new facet of her daughter's care, she begins to feel lightheaded and weak. She suffers from a critical, misdiagnosed illness and comes to understand the rigors of life against the grain. Confronting her past in order to make a better life for her daughter, Monroe rebuilds not only a half-ruined cabin in the woods but—in this candid, funny, and transcendent book—her fundamental sense of what it takes to make a family. (Originally published in hardcover by SMU Press.)
Praise for On the Outskirts of Normal:

The Year's Best Reading in 2010: A Top Ten List Selection.  Barnes and Noble.
 
Best Southern Books of 2010.  Atlanta Journal-Constitution. 
 
2010 Best Books.  San Antonio Express-News. 
 
REQUIRED READING: In a setting where working mothers are rare, novelist and single mom Debra Monroe's adoption of a black baby puts her On the Outskirts of Normal…
—Vanity Fair
 
PICKS: Should a middle-aged white woman with a history of failed relationships try to raise a black baby in small-town Texas?  Author Monroe proves she's got the right stuff, even if she can't handle her adopted daughter's Afro ("If you're white, black hair care is a secret").  Candid about men, mothering, racism, and her own flaws, she shows that it's possible to create something beautiful out of a tattered past.
—People magazine
 
OUR PICKS: On the Outskirts of Normal.  Debra Monroe writes about the complications, and gifts, of transracial adoption.
—Salon.com
  
RECOMMENDED READING: This unsentimental memoir about a white woman who adopts a black baby in small town Texas.
—O: the Oprah Magazine, The Reading Room. 
 
If On the Outskirts of Normal were a country song, Lucinda Williams would sing it.  In this graceful, disquieting and intensely felt acccount, Monroe offers the story of how she became the mother she needed to be—not to Marie, who in Monroe always had a fine mother, but for herself, so she could finally have and keep what she deserved.
—Atlanta Journal-Constitution
 
Monroe doesn't waste time justifying her family to others—her care and clear-eyed focus on her daughter make their own argument.  It's absolutely clear this is the life she chose. "The sprawling mess of life is why we need stories," she writes, "a fleeting sense of order so we return to life with the unproven but irresistible conviction our mistakes and emergencies matter."
—Amy Benfer, Barnes & Noble Review 
ISBN: 978-0-9835477-0-9
Price: $14.95
Trade Paperback Original
220 pages
Distributed by Ingram
eBook ISBN: 978-0-9835477-4-7
$6.99
For Kindle, NOOK, iTunes, and Google Play